How our customers automate their tools with Zapier
Published on
Name

Malarvizhi V

Twitter
If you're an active person, using various tools to do your job; connecting all those tools would be a headache. But Zapier does this in a minute!
Now, you can integrate Zapier with Hellonext and get all your customer updates right in any tool of your choice. If you want to integrate Hellonext with multiple tools at the same time, yes, you can! And with absolutely no coding!
Zapier integration lets multiple triggers like,
New posts in public or private boards
New public or internal comments
New votes (upvote or downvote)
Update to a post's status (In review, progress, completed) in public or private boards
All these actions raised in your Hellonext organization will be replicated in your integrated app of choice. It ultimately saves time and helps to focus more on work! Thanks to our Zapier integration that works seamlessly.
Here are the typical scenarios of our best customers integrating Hellonext with Zapier and how it improves their productivity life.
Product Teams Integrate Hellonext with Slack
Slack is one of the most popular communication tools used by many product teams to interact, share files, etc.  Automating Hellonext with Slack helps to get all the customer feedback directly from your Hellonext organization to Slack. Now, you can interact, manage feedback, make decisions about the feature prioritization, create new posts, comment, and more in Slack itself.
Product Managers Integrate Hellonext with Task Management Tools
Trello
Trello is another popular tool that many of our customers use for managing their internal tasks and roadmaps. Integrating Trello with Hellonext just takes a minute and helps them get all customer feedback notifications right away into your Trello boards. Easy as that! Also, it helps in prioritizing feedback as a part of the roadmap.
Jira
Most of our best customers use Jira integration; Hellonext Jira integration lets our customers link feedback posts with their Jira issues. It helps them to associate customer feedback data with project management data. Now, all the requests raised in the Hellonext are directly replicated to their Jira dashboard!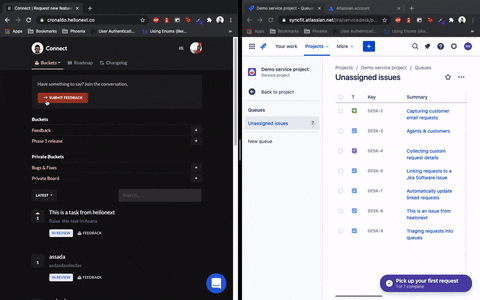 Asana
Integrating Hellonext with Asana helps project managers to track all your product roadmaps easily and also share the customer feedback you've decided to work on with your development teams instantly.
It becomes easy for them to manage all the customer feedback right away on their task board!
Todoist
Todoist is becoming a favorite tool among Indie developers. Our customers integrate Todoist with HN to listen to their customer feedback and track them directly from Hellonext to Todoist. It helps them get notifications instantly to their todoist boards when your customers raise new feedback.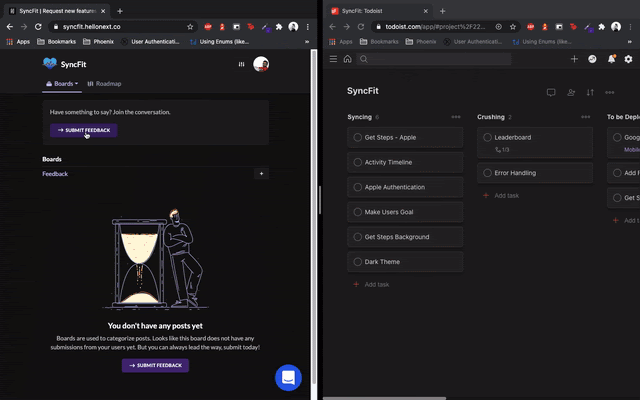 Marketing/Sales Customers Integrate Hellonext with Mail chimp.
Our marketing customers integrate Hellonext with mail chimp, where it helps them to manage customer feedback and create new campaigns according to their customer needs. Here, they can check around their status of the campaign and keep track of their existing subscribers and new subscribers added or updated in an audience, and so much more.
Intercom
Our Intercom users integrate with Hellonext so that they can embed feedback boards, feature request forms, and do more right within your Intercom Messenger. Also, it is helpful to quickly add new feature requests and manage all their feedback right away from Hellonext.
Not only these tools, but you can also integrate more than 1000+ different tools with Hellonext like our customers. Check out here to integrate with more tools.
Couldn't find the tool you're looking for? We're just a chat away.
Get a 14-day free trial of Hellonext
Start free trial